The NETIQUETTE+ project aims to support adult educators in mainstreaming and transferring relevant knowledge and skills on netiquette, fostering low skilled adults' and adult learner's awareness, knowledge and skills to take part in the digital society critically, consciously and responsibly. 
In this direction, NETIQUETTE+ will provide innovative and high-quality results to address the key role played by netiquette in adult learners' daily lives, educational settings and the workplace. 
FACE TO FACE MEETING
The NETIQUETTE+ consortium met on the 20th and 21st of September, 2022. Representatives from the nine partner organisations in the Czech Republic, Portugal, Germany, Cyprus, Greece, Belgium, Spain, France and Turkey met to discuss their initial steps and start planning their work. During the meeting, the project partners had the opportunity to discuss the developing stage of the Competence Framework and plan the details of the following result. They set the ground for the initiative of the project activities at all levels (project management, financials, dissemination, and quality assurance).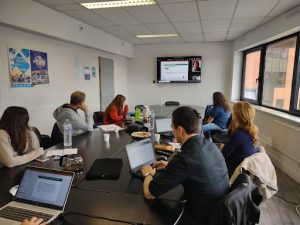 NETIQUETTE+ COMPETENCE FRAMEWORK
The NETIQUETTE+ consortium developed a competence framework that defines the knowledge, skills and attitudes most relevant to the target groups in the participating countries. The expected impact of this Result derives from the fact that its design will be built upon actual training needs and take into consideration experts' concerns, critical reflection and insights on how adult learners can make a positive, responsible and ethical use of digital technologies in their daily lives, educational settings and workplace. For its transversal elements and innovation, the competence framework has a high transferability potential.
Things are looking bright!
WHAT'S COMING UP?
Netiquette+ MOOC and Didactic handbook in 2023

Netiquette+ Learning hub and digital resources in 2023